High in protein, low in fat and recommended as a part of your Heart-Healthy diet.
Whole Sea Fish (For example Kuwe or Bawal)
Salt, as needed to season the fish
6.5 tbs/100g Kikkoman Garlic Teriyaki Sauce
1 tsp/10g Kikkoman Soy Sauce
0.5 sdt/5g Sugar
0.5 sdt/5g Lime Juice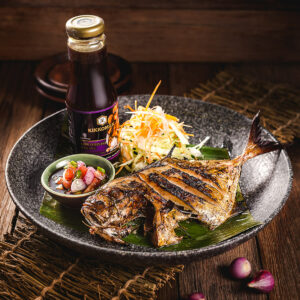 Season the fish with salt.
Make the marination by mixing well the 2 Kikkoman Sauces, sugar and lime juice.
Marinade the fish for at least 1 hour.
Charcoal-grill or oven-bake the fish until cooked.
Plate and serve.
[one-click-print]