Quick, delicious and a great choice to cook on a busy weeknight.
80g Chicken thigh with skin diced into cube
Salt, as needed
Pepper, as needed
Flour, as needed
1 tbs Kikkoman Gochujang
2 tbs Kikkoman Sweet Sauce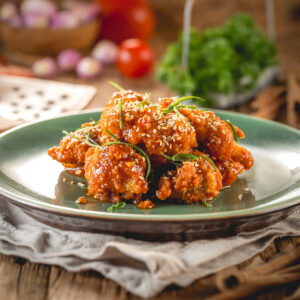 Season chicken with salt and pepper.

Coat chicken with flour.
Fry chicken with hot oil until it is fully cooked.
Mix well the 2 Kikkoman Sauces.
Pour the sauce into fried chicken, mix well until it is fully coated.
[one-click-print]