Classic Indonesian comfort food prepared using our Kikkoman Halal Sauces.
180g Steamed rice
50g Egg, whisked
6g Garlic, chopped
5g Green Onion, slice thin
3g Red Chillies without seeds, slice thin
10g Boiled Chicken, diced
4 tbs/60g Kikkoman Oyster Flavored Sauce 
2 tbs/30g Kikkoman Soy Sauce
4 tbs/60g Kikkoman Sweet Sauce
1 tbs/14g Chicken Stock Powder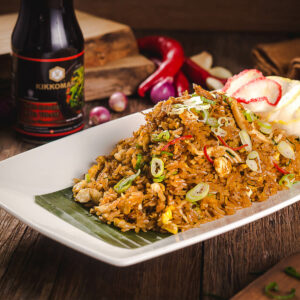 Make the Kikkoman Fried Rice Sauce by mixing the 3 Kikkoman Sauces, chicken stock powder, bring to boil, and turn off fire. Mix all the ingredients well.
Sautee the garlic until fragrant add the eggs.
Mix and cook egg until cooked.
Put steamed rice and 3 tbs (45gr) Kikkoman Fried Rice Sauce.
Mix rice very well over high heat.
Add the rest of ingredients and cook well.
Plate and serve.
[one-click-print]